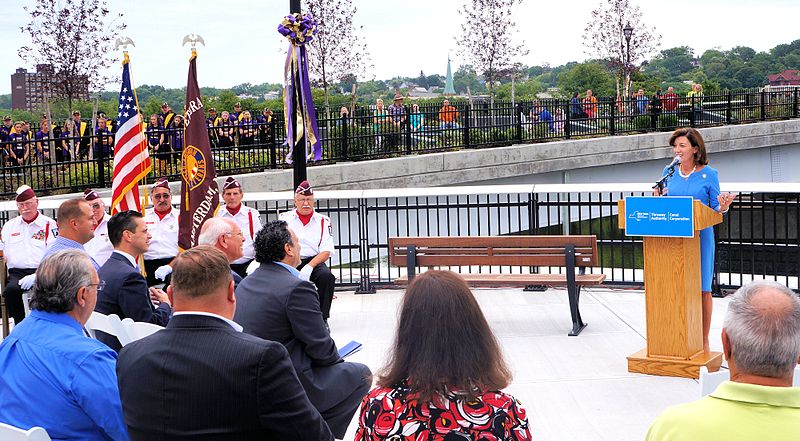 Governor Kathy Hochul today announced the completion of 85 new rental apartments at 172 Warburton at the Ridgeway in Southwest Yonkers, the fourth development in a six-phase
revitalization plan to redevelop and replace obsolete public housing at Cottage Place Gardens. To date, the comprehensive effort, known as The Ridgeway, has created 327 new affordable rental apartments.
"Southwest Yonkers has a vibrant history, and this new public housing complex will provide residents with modern, high-quality affordable homes while also strengthening the entire community," Governor Hochul said. "This neighborhood is vibrant and inclusive, and with our ongoing investment to provide New Yorkers with new housing opportunities, this city will continue to grow and thrive."
Majority Leader Andrea Stewart-Cousins said, "172 Warburton at the Ridgeway is an example of what can be done when multiple levels of government and the private sector work together.  I am pleased to lead a Senate that is focused on funding affordable housing and education, high priorities for me. This development combines both: modern, affordable apartments and a Pre-K school on site. I appreciate the efforts of the various state agencies including the Division of Homes and Community Renewal, the Department of Environmental Conservation and Empire State Development who worked together to make this wonderful project a reality."
172 Warburton at the Ridgeway is a new eight-story building offering a mix of one-bedroom, two-bedroom and three-bedroom apartments. Sixty-five of the homes are affordable to households earning at or below 60 percent of the Area Median Income (AMI) and twenty apartments are affordable to households earning up to 90 percent of the AMI.  
The ground floor features a 10,000 square-foot universal pre-kindergarten facility operated by WestCOP, which is open to residents and the larger community. Additional amenities include a community room, fitness room, outdoor terrace and free parking at a newly constructed parking deck adjacent to the residential building.
The new apartments are a short walk away from shopping, educational and healthcare facilities, with nearby government offices and the Yonkers MTA Metro-North Railroad Hudson Line station, as well as several Westchester County Bee Line Bus System bus routes. 
State financing includes nearly $11.2 million in permanent tax-exempt bonds, Federal and State Low Income Tax Credits that generated $17.5 million in equity and $9.2 million in subsidy from New York State Homes and Community Renewal. The New York State Department of Environmental Conservation awarded brownfield tax credits that generated $7.2 million in equity and Empire State Development awarded $2 million through the Restore NY program. Additional financing includes $750,000 from the Municipal Housing Authority for the City of Yonkers and $500,000 in HOME funds allocated by the City of Yonkers as well.
Developed by MHACY and The Community Builders, The Ridgeway will ultimately replace 14 mid-rise public housing buildings on a five-acre site plus additional parcels to yield a total of 500 new affordable homes. The design will reconnect the street grid and add mixed-income tenancy to create a more diverse and inclusive community. 172 Warburton at the Ridgeway now joins three completed phases of the development: the 121-apartment Schoolhouse Terrace for seniors and families, the 51-apartment 188 Warburton building for families, and the 70-apartment Villas.
HCR Commissioner RuthAnne Visnauskas said, "In partnership with MHACY and The Community Builders, we are driving the complete transformation of this neighborhood by replacing outdated buildings with modern apartments and a new pre-kindergarten facility to benefit the entire community. With the completion of 172 Warburton, our investment has yielded 327 newly constructed homes across four phases of development. By financing the preservation and reinvention of our aging but vital public housing, we are ensuring that more New Yorkers have access to safe, affordable homes in newly thriving communities like Southwest Yonkers."
New York State Department of Environmental Conservation Commissioner Basil Seggos said, "The Brownfield Cleanup Program is critical to the successful revitalization of communities across the state by helping return hundreds of underutilized and formerly polluted properties to productive use, benefitting New York's natural resources and local economies. Completion of The Ridgeway is the latest phase in the ongoing redevelopment of the Cottage Place Gardens, which has to date delivered 327 new rental apartments to Southwest Yonkers. DEC is proud to work with our partners at Homes & Community Renewal on this transformative project that will energize the local economy and improve quality of life."
Empire State Development Chief Operating Officer and Executive Deputy Commissioner Kevin Younis said, "The Ridgeway is another positive step forward in Southwest Yonkers that offers a better quality of life to hundreds of residents who lack access to quality, affordable housing units. By investing in our neighborhoods we attract new businesses, which in turn creates jobs and opportunity for the region." 
Assemblyman Nader Sayegh said, "As a member of the New York State Assembly representing Yonkers, I continue to back substantial financial support for New York Homes and Community Renewal. The success this agency is having in developing public private partnerships leading to new affordable housing units for Yonkers is commendable. I congratulate the Municipal Housing Authority for the City of Yonkers and The Community Builders for their ongoing work to reimage the old Cottage Place Gardens Housing Project with modern affordable housing."
Westchester County Executive George Latimer said, "172 Warburton is the perfect example of multiple levels of government working together to best serve our residents and our communities. Westchester County was happy to support this development with $5 million toward creating a new park and playground and connecting the water line in the neighborhood. The redevelopment of the older public housing units in the County with 85 new quality, affordable units has helped to transform this community in a very positive way."
Mayor Mike Spano said, "The redevelopment of Cottage Gardens into The Ridgeway is yet another example of how Yonkers is revitalizing our neighborhoods and improving the lives of all our residents. As we see luxury housing rising along the riverfront, it is also important that we provide quality affordable housing so all boats rise with the tide. We thank New York State for making this possible and commend the leadership of MHACY and The Community Builders on this very significant development."
MHACY President and CEO Wilson Kimball said, "Not since the Yonkers downtown daylighting have so many layers of government come together to serve the needs of our tenants. 172 Warburton is the type of Public Private Partnership that shows these partnerships produce terrific results, we are very grateful to NYS, Westchester County, the City of Yonkers and our partners at The Community Builders for making this level of quality affordable housing available to our tenants.''
President and CEO of The Community Builders, Inc. Bart Mitchell said, "Today marks another milestone in the Yonkers renaissance as the doors at 172 Warburton at the Ridgeway open for 85 families to move into new, quality, affordable homes. Just as importantly, over 100 Yonkers children will experience state of the art early childhood education operated by WestCOP.  On behalf of our organization, I extend my deepest thanks and a well-earned congratulations to the many partners and leaders who made this project possible, including NYS HCR, the City of Yonkers, Westchester County, our elected leaders, our funders, our residents, our neighbors, and our development partners at MHACY."
172 Warburton is part of the state's unprecedented $20 billion, five-year Housing Plan to make housing accessible and to combat homelessness by building or preserving more than 100,000 affordable homes and 6,000 homes with supportive services. Since 2011, New York State Homes and Community Renewal has invested more than $414 million in Yonkers, which has created or preserved nearly 3,300 affordable homes. Photo by Timothy Becker, Wikimedia commons.